Russell at theverybesttop10.com has allowed me to do another guest post on his brilliant site. You can't have Christmas without Cliff Richard and I was shocked to discover that his 2014 Calendar is the 2nd best-selling on Amazon. So, in homage to the man who epiphonises Christmas and gave us songs such as Mistletoe & Wine, Saviour's Day and Millenium Prayer let's look at the top 10 photos of Cliff at Christmas…
10 – "Cliff-mas Present" Oh, I wonder what it could be? I hope it's a jumper and t shirt set to match my Cliff-mas tree……oh, no wait I'm already wearing that.
9 – "Cliff-mas Sleigh" Cliff used his time travelling Cliff-mas sleigh to travel to the future and look at the fashion and take it back with him. He was the only one in those days to wear hi-top trainers and cuffed jeans. To those who say his dress sense is stuck in the past, I say NO! he brings it from the future. I'm not sure about the green socks though, maybe that's what was in the present in Number Ten above…
7 – "Cliff-mas Cocktail" This is how Cliff keeps his youthful good looks. Every night before he goes to bed he has a concoction of potions that was given to him by Goldie Hawn and Meryl Streep. He discovered their secret to eternal life after watching the documentary Death Becomes Her. This photo was taken when Cliff was 129 years old.
6 – "Santa Cliff" This is Santa Claus pretending to be Cliff Richard. Honestly Santa, don't you have enough to do at this time of year?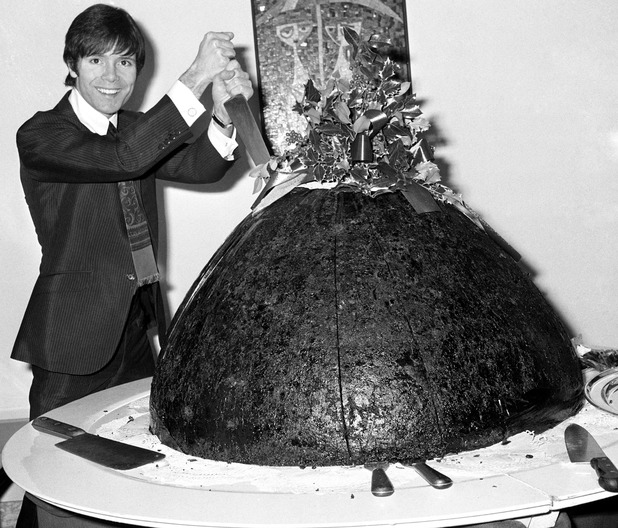 5 – "Cliff-mas Pudding" Here is Cliff plunging a long sharp object into a big pudding. Ooo errr!
4 – "Cliff-mas Parcels" This is Cliff telling the audience how many people had to help him squeeze into those leather pants.
3 – "The Cliff of Cliff-mas Future" This is the album that Cliff will release in the year 3015 when he is just a head.
2 – "Raise Your Cliff-mas Glasses" Cliff needs super powered glasses to be able to watch over everyone at Cliff-mas.
1 – " Oh Cliff-mas Tree, Oh Cliff-mas Tree" Next time you pass a Christmas Tree, take care. You just never know when Cliff will pop out! Thanks to Russell for allowing me to contribute to his site and I hope you enjoyed this Top 10. Thanks for taking the time to look, like and comment……….MERRY CHRISTMAS!!!